Let's Work Together
Help Support the Jillian Fund!
Clover Imaging Group has partnered with the Jillian Fund in 2020 to help make a difference for families in need. The Jillian Fund is an organization that provides financial support to parents with children who are suffering life-threatening illnesses requiring critical care. You can help us donate more to the Jillian Fund when you sign up for our cartridge collection program.
Recycle your empty cartridges to make money for your company and help protect the environment. Donating is easy, here's what you need to know:
Dealers receive 100% value on all empties collected
25% of the collection value will be donated by Clover Imaging to the Jillian Fund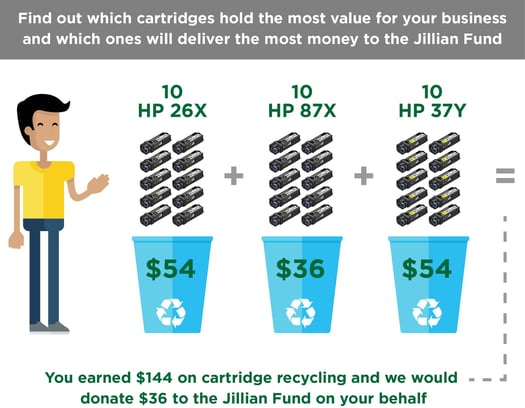 How do I start?
Register by filling out the form below
Collect empty inkjet and toner cartridges
Return the items to our processing center
You receive 100% value of cartridges and we'll donate 25% to the Jillian Fund on your behalf
Program runs until October 31, 2020
When you help us support those in need, we'll help you boost your bottom line and promote environmental responsibility.
The more we collect, the more we donate! Let's work together and support the Jillian Fund!