In Stock & Ready to Ship!
Cleanitize Disinfecting Wipes have been added to EPA's List N for use on surfaces in order to protect against SARS-CoV-2 (COVID-19). With 2-3 times more killing agents than other leading brands, the Cleanitize formulation has been shown to kill 99.9% of common household bacteria in 15 seconds.
Key Features:
List N approved to kill the coronavirus SARS-CoV-2 (COVID- 19)

EPA #

75459-1-82051

Kills 99.9% of bacteria in under 15 seconds

Available in cases, pallets, and truckloads
Please fill out the form below or reach out to your sales rep to learn more.
See the N Listing on the EPA Website
To see Cleanitize Wipes on the EPA website, click on the image below and copy/paste 75459-1 in the EPA Registration Number search bar.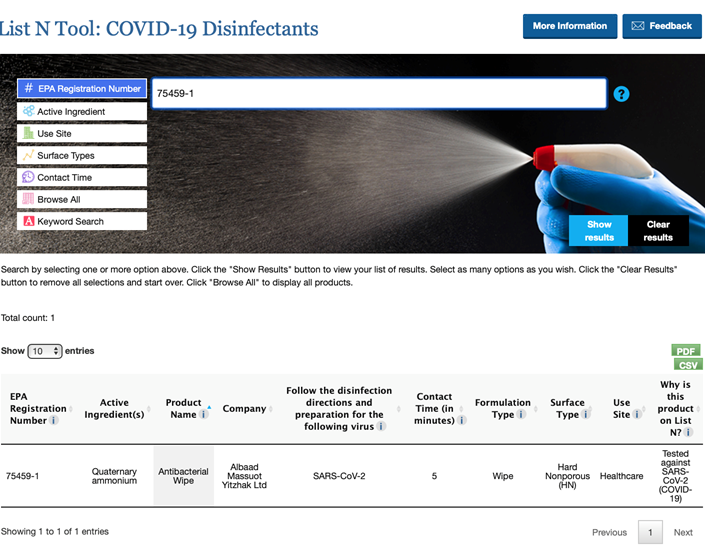 Clover Imaging Group, LLC ("Clover") is committed to protecting and respecting your privacy and your personal data. The personal information you provide to us will be used to administer your account and to provide the products and services you request from us. In addition to contacting you about our product and service offerings, we may also contact you about other content which may be in the form of emails, newsletters, product updates and industry information.
Any time we contact you, you will have the option to simply unsubscribe from these communications. If you decide you do not want to receive communications from Clover we may still be required to send you emails relating only to transactional and/or servicing information about our products or services.
Please read our privacy policy for additional information regarding how we use personal data.
By clicking submit, you consent to allow Clover to store and process the personal information submitted above to provide you the content requested.