BUSINESS IN THE TIME OF COVID-19 IS COMPLICATED – WE'RE HERE TO HELP
Although the COVID-19 pandemic has not abated in many parts of the country, businesses and organizations of all kinds are getting back to work. Running a successful organization while maintaining the health and safety of employees and clients, while paramount, presents new challenges.
Clover Imaging Group has solutions to help dealers across the country meet those challenges.
High Quality, Low Cost Remanufactured Ink and Toner

Clover Imaging remanufactured printer cartridges offer a true alternative to the OEM and provide businesses an easy way to cut at least 30% off their printing costs. Clover cartridges are 100% guaranteed and undergo extensive quality testing to ensure consistent performance.

Small Office/Home Office Printers

Remote work is here to stay with companies like Google keeping their staff at home until 2021. Clover Imaging provides a wide variety of refurbished small office/home office printers, giving work-from-home staff access to all the tools of the office at competitive pricing.

North America Supply Chains

A major bottleneck in the national and global economy has been shipping and distribution, especially internationally. By securing North American sources for materials and equipment, you can trust that your orders will be processed, shipped and delivered in a timely manner. North American sources also mean North American jobs, boosting local economies across the continent.

With distribution centers throughout the United States, Canada and Mexico, our customers get fast shipping throughout North America.

Personal Protective Equipment (PPE)

CNN has recently reported that the Clorox® wipes shortage is due to last at least until 2021. Mask ordinances will no doubt be in place until a vaccine is widely available and hand sanitizer isn't going anywhere. PPE is going to be a business-critical necessity for the foreseeable future and it's important to have safe, quality products readily available for your team and for your customers!

Clover offers a wide variety of PPE with fast shipping and low minimums. Everything from nitrile gloves and hand sanitizer to face shields and masks are available. There's even an opportunity for clients to private label products such as pocket hand sanitizer and other items.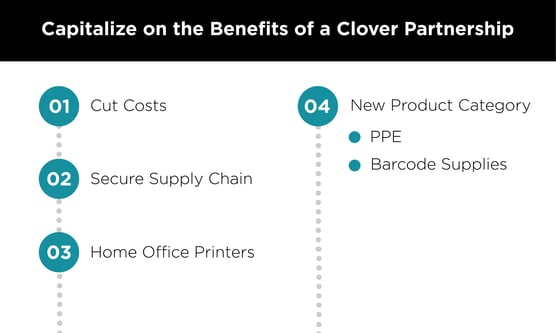 Clorox is a registered trademark of the Clorox Company and is used for identification purposes only.
*See web address: https://abcnews.go.com/GMA/News/clorox-disinfectant-wipes-shortage-2021/story
Fill Out the Form Below to Learn More